Introduction
This is the developer guide for Chat SDK v1. The new Chat SDK v2 for Android is now available and is the recommended version to integrate Chat into your mobile app.
Zendesk offers a range of SDKs for mobile devices that brings support features to your end users in your apps. The range consists of the following SDKs:
Chat SDK for Android (the SDK you are currently viewing)
What's the Chat SDK for Android?
The Chat SDK for Android is a quick and convenient way to embed chat in your Android app and make chat with your support agents a breeze for your customers. The SDK is fully native so you don't have to deal with ugly web views or complicated flows.
Integrating chat into a new or existing project takes only a few lines of code. The SDK combines this simplicity with the flexibility to make the chat interface look and feel like the rest of your app.
Watch the following video to see what's possible with the Chat SDK.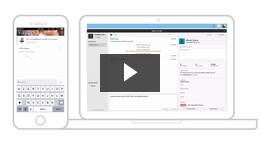 Music: www.bensound.com
To give other support options to your customers, see the Zendesk Support SDK. The Support SDK includes Help Center and ticketing. Though the Chat and Support SDKs are separate SDKs, you can use one or both in a single app to provide the support options you want.
Getting started
Chat features
The chat functionality provided by the Chat SDK has the following features.
Live chat
Your users can start a live chat with an agent from their device. Because the interface is fully customizable, you can give it the same look and feel as the rest of your app.
Offline messaging
Your users can leave a message when agents are not available for chats.
Attachments
Attachments make is easy for your users to send and receive files for an enhanced support experience without having to leave the chat flow.
Chat ratings
Users can rate the chat after it's finished. You can quickly gain insight on the chat experience your users are receiving without followup emails or external surveys.
Transcripts
After ending a chat, users can email themselves a transcript of the chat to have a record of the conversation.